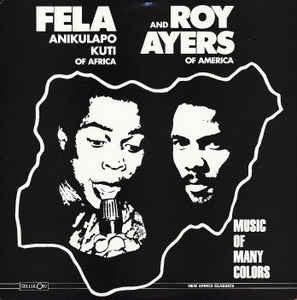 Fela Kuti and Roy Ayers - Music of Many Colours LP
On paper this shouldn't really work. In 1979, Fela's music was political
and aggressive, while jazz innovator Ayers had become an R & B star
ensconsed in disco. But together they created this masterful record
where one player leads each side: two long cuts which are heavily
rhythmic and totally mesmerising with their heavy grooves, Fela
honking sax and Ayers' melodic vibes. Highly recommended!
---
More from this collection